Gardening in Attractive Containers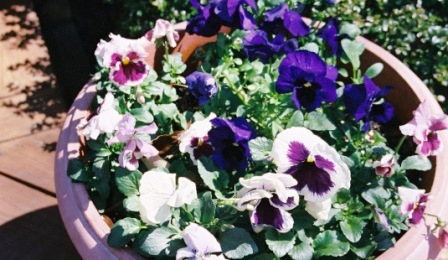 You can now start gardening in your balconies, rooftops, and along the streets through container gardening. You don't need a whole yard space just to have beautiful and attractive plants. With container gardening, you can now accentuate the patio or deck with colorful containers and pots with annuals. You can plant rose shrubs in window boxes or you can plant small perennials. Creating a small garden is really fascinating and it all depends on your creativity.

You can establish a color scheme if you like. When the plant has already finished flowering, you can replace it with another plant. You can try contrasting colors and varying plant heights. Plants can be grouped together according to the texture and shape of their leaves. Just use your imagination and creativity and you can create mini-garden that is more beautiful than large gardens.

Tall plants with strap leaves can be used as a background of wide-leafed and low growing plants. It would be best to choose a plant that bears flowers for long seasons but you can get ones that can be replaced after blooming. The choice is really up to you.

There are lots of containers to choose from and you can experiment on them. You don't have to purchase all the containers. If you have an old copper urn or porcelain bowl, you can turn them into plant pots. Tiles and timber can be converted into plant containers. Ready-made containers are widely available in plant or garden stores. Some of the most attractive pots are made from terracotta but before you use them, apply a coating first so that water is not absorbed by the pot. This is one way to ensure that the plant will not dry out.

There are cheap containers and plant pots sold in the market like the plastic ones. You need to ensure that the pots or containers are sold together with drip pans so that the floors are not stained.

Try to get a good quality potting mix so that the plants grow healthy. Doorsteps can be accented with colorful pots with beautiful plants to create a welcoming or cozy atmosphere. The positioning of the plants is vital so that you can get the appropriate plants. Plants that need a lot of sunlight should be positioned on an area where sunlight is available. Large rooted plants are not suitable for container gardening. Gardening in containers entails a lot of work. Prepare first.

Have A Great Story About This Topic?
Do you have a great story about this? Share it!
Order Your New Landscape Design Today! 
Design Before You Plant!

Privacy   Disclaimer   About   Contact   This Site Built:   Solo Build It



Copyright © 2003 - 20120 by Web-Landscape-Design-Ideas.com.
All rights reserved.