THE DROPS OF HAZARD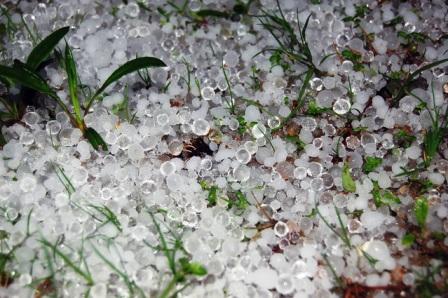 Spring ahead---Fall Back…It was time to fall back following a good growing season and reap the benefits of the vegetable garden we had worked in all summer. The local weather reports were good for our area but reported some storms about fifty miles from us and not likely to pass our way.
When rain starts to fall, usually the first reaction in a farmer or gardener is pure joy. After all, this means you don't have to worry about going out and watering it manually. The natural rainfall can't be anything but good for all your thirsty plants.
We were prepared for a bountiful harvest and had already decided on who we were going to share it with. A light breakfast and then out to the garden at daybreak and let the picking begin. The harvest was going well. We picked the spinach and peppers and were ready to start on our tomatoes and the last of our Swiss Chard when suddenly the sky darkened and a cold wind began to blow. Moments later, it began to rain, and then it turned to hail as we ran for shelter. Hail, the size of mothballs, and larger dropping so thick we could hardly see through it from our small utility barn.
About twelve minutes passed while we watched in silence until this barrage of ice bullets ended their siege. We put on our rubber boots and slowly walked into our garden to see what, if anything was left of it. What we saw looked like someone or thing scattered a giant tossed salad over the whole garden.  Shreds of the leafy vegetables were all over everything. The riper tomatoes dropped to the ground and the greener ones still clung to their vines. It looked like we could still pull up the onions and garlic, and dig up the potatoes.
The zucchini and pumpkins, some riddled with holes, and some salvageable. We stood there shaking our heads in disbelief and I began to cry. My husband put his arm around me for comfort and said; "We've already had too much water on these things honey, it's time to get our tools, clean up and save what we can".
Our three kids came home after school, helped us with our clean up, and harvest efforts. We finished late that evening and were sitting at the dinner table enjoying some vegetable beef stew I had started in the crock-pot earlier.  We discussed what had happened and our youngest said; "well I guess we won't be doing the garden again next year, will we"? I didn't like all that work anyway.
Dad said; "we certainly will do it again and you don't have to help if you don't want to. I'd rather see you doing your homework, and that goes for all of you. What do you do if you fall off your bikes"? "You get back on it", said the eldest. "That's right, and that's just what Mom and I are going to do. Think about ways to get back on it without destroying it or us".
We thought of growing things in large pots so we could cover them in the event of a storm. Then, could we get outside fast enough to cover them. However, as the number of fragile plants in my garden grew, it became impractical to have a pot for each plant, and run outside to cover each one before significant damage had already occurred.
Driving stakes between the rows high enough to support sheets of plastic, like painter's drop cloths, might be enough to protect them if a strong wind didn't blow them off or the hail didn't weigh them down to the ground.
The longer we thought about ways and means to prevent Mother Nature from destroying our hard-earned garden the more we thought of the old TV commercial that advised, "Don't mess with Mother Nature", the best thing we thought to do is give them the tender care they deserve. After all, what do the farmers do with the vast acres they plant? They only nurture what nature gives them. Storms come and go.
Therefore, if you live in an area that experiences frequent hail, you should definitely have some emergency plan for protecting your plants. If not, and you still want a vegetable garden, consider planting those that grow underground or have strong skins such as gourdes or some squashes and melons.
Consulting your local weather service for information about the weather changes in your locale could be helpful when deciding on a choice of plants to grow. It is definitely worth the effort. The best food is fresh food and when you eat something, you have grown yourself it is even better because you know what went into it.
Order Your New Landscape Design Today!
Always Design Before You Plant!

Click The Above Link To Get Your Dream Design Started Now!


Have A Great Story About This Topic?
Do you have a great story about this? Share it!
Privacy   Disclaimer   About   Contact   This Site Built:   Solo Build It



Copyright © 2003 - 2020 by Web-Landscape-Design-Ideas.com.
All rights reserved.

First things first - As the name suggests, raised bed gardening involves planting your plants in a bed that is off the ground rather than planting directly into the soil. Raised beds come in all different sizes, and there are many different kinds of receptacles for raised beds, depending on the size and where you want to hang the beds.
The ability to manage the soil is one of the most significant benefits of using the raised bed. Because you choose and mix the ground yourself, you can create the perfect soil environment for the plants you want to grow. That means even if you're going to grow plants that don't typically thrive in your area because of your local soil composition, you can grow them in raised planters in which you have created the perfect soil for those plants.

There are other benefits to raised areas as well, even if the soil is not an issue in your area. Another significant advantage to consider is the way the raised beds let you target the use of things you put on your garden. Apply fertilizer and mulch where they are needed - and there only - so you end up using less and do not accidentally apply these things where they are not required. If you use chemical pesticides, herbicides or insecticides, you can use a smaller amount of them, and again, you can target their use. Because you apply them only to the raised bed, you don't have to worry about runoff or the effects these chemicals can have on your pets or kids who play in your yard. All in raised bed gardening makes for more efficient planting.
One great benefit of a raised gardening bed that is the fact that the planting area is, in fact, elevated. Since the garden is not ground level, it is much easier to tend. Garden enthusiasts with back problems will love being able to see their plants and manage them without bending over and dealing with hours of painful work. Raised areas are ideal for people with joint pain and injuries that make it difficult for them to garden traditionally.

Although raised garden beds have all of these benefits and make different kinds of gardening possible in areas where the soil is not ideal, the beds can't trump every problem a garden may face. You still need to consider the climate in your area and choose plants accordingly - raised planters or not, and tropical plants won't grow in snowy climates. Also, you will still need to pay attention to what level of sunlight your garden area gets and choose your plants with that in mind. Further, although most people with raised beds deal with less pest infestation, you will still need some way to deal plant-munching insects. Even though raised beds can't fix everything, however, they are still a great option when soil limits the way you garden.
Lawrence L. Hoyle, author, 57 years in the Landscape Profession. Check out his main website at: https://www.web-landscape-design-ideas.com. This website has free Landscape help for Do-It-Yourselves and a online Landscape Design Services for Homeowners, Landscape Contractors and Home Builders. Designing online since 2003 with designs in 40 states. Get Your Special Landscape Design today.!
Article Source: https://EzineArticles.com/expert/Lawrence__L._Hoyle/74517


Article Source: https://EzineArticles.com/9985681