Growing Organic Vegetables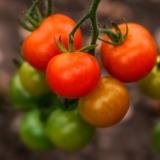 Many people know about the benefits of eating organic fruit and vegetables. However, not many people regularly eat organic food. The biggest disincentive is usually the price. Organic veggies are invariably a lot more expensive at the local supermarket. The good news is that anybody with even a modest vegetable garden can grow healthy organic vegetables for a much lower cost than they would buy off the shelf.

Nevertheless, some people avoid growing their own vegetables because they are running short on space, time and the know-how to tend a successful veggie patch. However, organic gardening isn't as difficult as many people think.

Mulching is one of the main secrets. The regular incorporation of old organic matter helps keep the soil functioning well. Mulching helps the soil retain moisture, suppresses weeds, reduces temperature fluctuations, and can prevent soil crusting. Many organic gardeners find that plant disease problems decline as the health of the soil improves.

Of course, the main reason for growing organically is to avoid the use of chemicals and commercially produced fertilizers and pesticides. Again, this helps to maintain a healthy soil across numerous growing seasons. More importantly, you can be sure that the food your family is eating is free of pesticides and herbicides. While avoiding synthetic chemicals, many organic gardeners approve of and use sprays and other preparations containing naturally occurring materials. Other pest control methods include the use of mechanical devices such as traps. Another favorite is to encourage other animals, which like to eat the pests, to the garden.

For city dwellers who have more enthusiasm than space, container gardening may be the answer. Many herbs and vegetables can be grown quite successfully in containers. These include carrots, radishes and lettuce, as well as crops that bear fruit over a long period of time, such as tomatoes and peppers. No matter what you grow it is important to remember that drainage is extremely important. Another possibility if space is at a premium is to grow herbs and vegetables amongst your flower garden.

You never know, if the prices of organic produce remains high and concerns about food safety grow you might be able to convert that backyard vegetable patch into an income earner as well. For those less entrepreneurial, there is the opportunity to work on projects, such as neighborhood food growing, in order to benefit the whole community. At the very least, home grown vegetables definitely taste better.
Have A Great Story About This Topic?
Do you have a great story about this? Share it!
Order Your New Landscape Design Today!
Always Design Before You Plant!

Click The Above Link To Get Your Dream Design Started Now!

Privacy   Disclaimer   About   Contact   This Site Built:   Solo Build It


Copyright © 2003 - 2023 by Web-Landscape-Design-Ideas.com.
All rights reserved.