Patio Design And Construction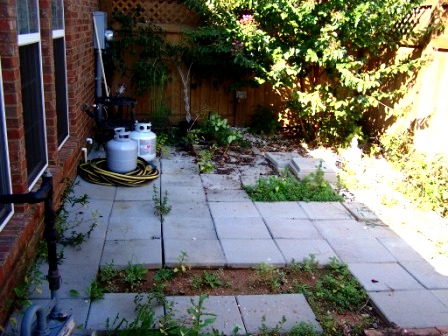 Do-It-Yourself Patio installation with no prior site construction knowledge.
Doing the easy way just does work out too well.

If you are going to Do-It-yourself,  either research online, Landscape Construction books or hire a Landscape Consultant to provide the proper details and construction know how.  The finished patio will be usable and something that you can take a lot of pride that you did the job yourself.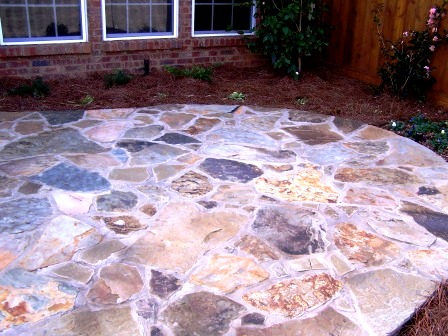 Crab Orchard Flagstone set in concrete makes a beautiful patio.  It is best to hire a good stone mason that has many years of experience.  The proper cutting and blending the different color stones to make the patio that you see in the picture.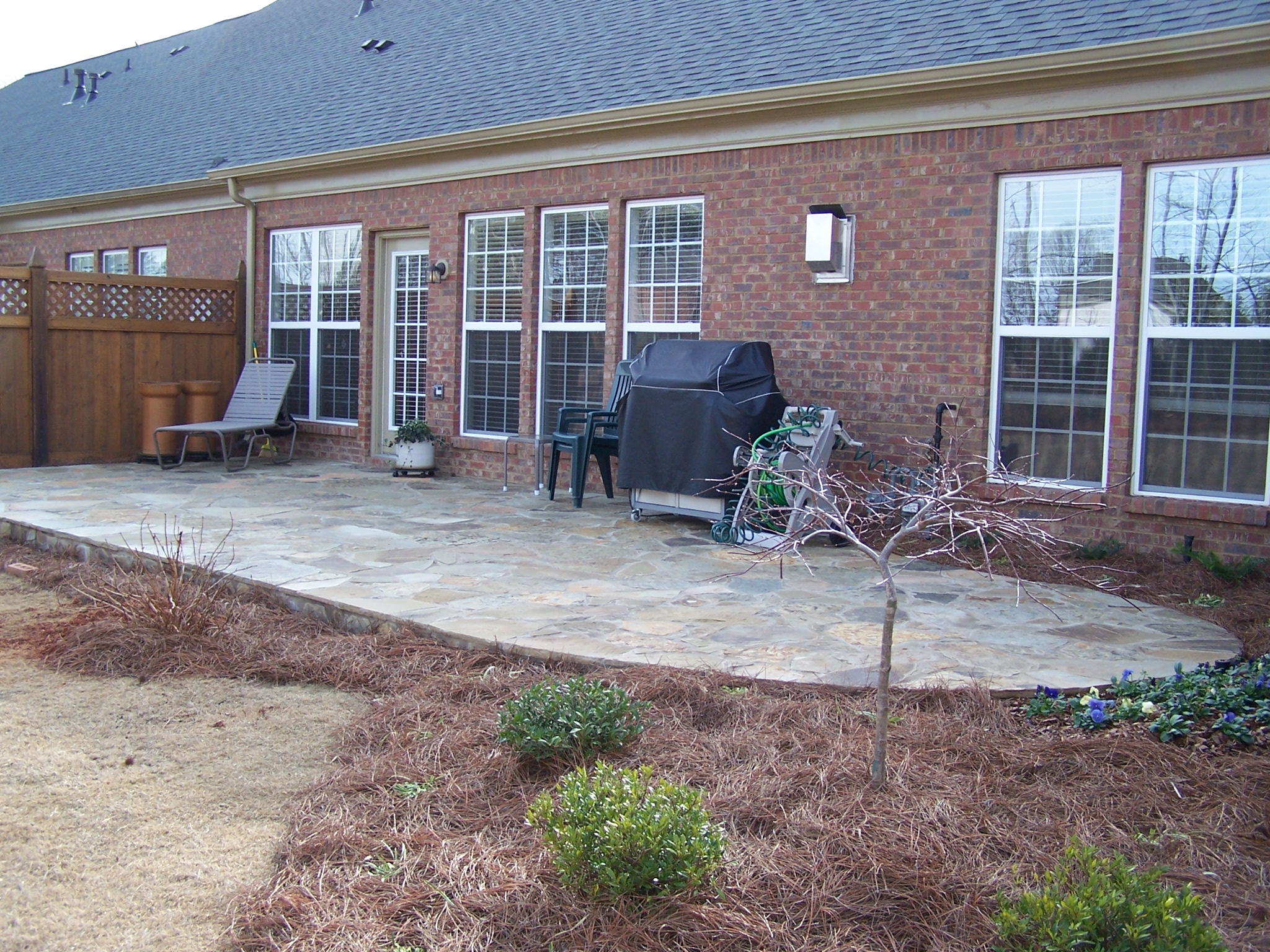 The patio design should repeat the lines of the adjacent deck or the pattern of the planting design.
The base for the patio can either be sand or granite fines.  It must be compacted and leveled before the brick or Concrete Pavers are placed.  If the site is property prepared,  The pavers will be easy to installed.  A electric Brick cutter can rented to make the many cut needed to complete the project.

A small concrete patio was enlarged by adding a pressured treated timber edge and installing a brick addition.  The natural gas grill was already at the location that you see in the picture and it was close to the kitchen door.

This condo Patio was too small for entertaining and the table and chairs was too close to the door for people to move around. 
The existing concrete patio was enlarged and flagstone was added on top.

The unsightly gas meter was in a bad location.  The stone box that you see in the picture on the right covered the unsightly gas meter.  The top stone piece is removal for servicing and the hole toward the bottom allows the gas meter to read.  This was approved by the local gas company.  You should check with your  gas company before using this idea.

Removing an old concrete patio might be a bigger job than you think.  This patio was 10 to 12 inches thick instead the normal 4 inches.  There was no way on knowing until the removal was started.  Surprise!!

Order Your New Landscape Design Today!
Always Design Before You Plant!

Click The Above Link To Get Your Dream Design Started Now!
Have A Great Story About This Topic?
Do you have a great story about this? Share it!
Privacy   Disclaimer   About   Contact   This Site Built:   Solo Build It



Copyright © 2003 - 2020 by Web-Landscape-Design-Ideas.com.
All rights reserved.

First things first - As the name suggests, raised bed gardening involves planting your plants in a bed that is off the ground rather than planting directly into the soil. Raised beds come in all different sizes, and there are many different kinds of receptacles for raised beds, depending on the size and where you want to hang the beds.
The ability to manage the soil is one of the most significant benefits of using the raised bed. Because you choose and mix the ground yourself, you can create the perfect soil environment for the plants you want to grow. That means even if you're going to grow plants that don't typically thrive in your area because of your local soil composition, you can grow them in raised planters in which you have created the perfect soil for those plants.

There are other benefits to raised areas as well, even if the soil is not an issue in your area. Another significant advantage to consider is the way the raised beds let you target the use of things you put on your garden. Apply fertilizer and mulch where they are needed - and there only - so you end up using less and do not accidentally apply these things where they are not required. If you use chemical pesticides, herbicides or insecticides, you can use a smaller amount of them, and again, you can target their use. Because you apply them only to the raised bed, you don't have to worry about runoff or the effects these chemicals can have on your pets or kids who play in your yard. All in raised bed gardening makes for more efficient planting.
One great benefit of a raised gardening bed that is the fact that the planting area is, in fact, elevated. Since the garden is not ground level, it is much easier to tend. Garden enthusiasts with back problems will love being able to see their plants and manage them without bending over and dealing with hours of painful work. Raised areas are ideal for people with joint pain and injuries that make it difficult for them to garden traditionally.

Although raised garden beds have all of these benefits and make different kinds of gardening possible in areas where the soil is not ideal, the beds can't trump every problem a garden may face. You still need to consider the climate in your area and choose plants accordingly - raised planters or not, and tropical plants won't grow in snowy climates. Also, you will still need to pay attention to what level of sunlight your garden area gets and choose your plants with that in mind. Further, although most people with raised beds deal with less pest infestation, you will still need some way to deal plant-munching insects. Even though raised beds can't fix everything, however, they are still a great option when soil limits the way you garden.
Lawrence L. Hoyle, author, 57 years in the Landscape Profession. Check out his main website at: https://www.web-landscape-design-ideas.com. This website has free Landscape help for Do-It-Yourselves and a online Landscape Design Services for Homeowners, Landscape Contractors and Home Builders. Designing online since 2003 with designs in 40 states. Get Your Special Landscape Design today.!
Article Source: https://EzineArticles.com/expert/Lawrence__L._Hoyle/74517


Article Source: https://EzineArticles.com/9985681