Why Crape Myrtle Are Murdered Each Year?
Select The Right Crape Myrtle For The Area In The Landscape Where It will Grow!!

It should require little or No Pruning!!!!

Crape Myrtle Murder!

Crape Myrtles are easy to grow and requires low maintenance. They grow in Zones 7 - 9 (Zone 7 - 0 to 10 degrees for the low temperature, (Zone 8 -10 to 20 degrees and Zone 9 - 20 - 30 degrees).

Crape Myrtles bloom from late spring through the summer months. Many homeowners and Landscape Maintenance Companies believe that this plant needs heavy pruning for better flowering. This is not true. The second problem is the mature size of many of these cultivars will out grow the planting site. The only way these plants can fit in the spot, requires severe pruning which many professionals have termed it "Crape Myrtle Murder" for good reason. No trees should ever have the top part severely cut back. Keep the main structure of the plant by only pruning the weak and crossing branches within the plant.

Here are some of the Crape Myrtles that are in question. 'Natchez' which has white flowers and grows to a height and width of 25 to 30 ft. 'Muskegge' with light lavender flowers and reaching 24' tall. 'Miami' with dark pink flowers and 20' tall. These large plants requires big yards to grow.

When planting new plants, select the right size plant for its new growing area, so that little or no required pruning needed. New Cultivars range in size from 24 inches to 12 ft. tall. Here are some examples: 'Tonto' which grows 10' tall and 6 to 8' wide. 'Acoma' grows 8 to 10 ft. tall and 6 to 8' wide. 'Red Velvet' has red flowers and grows 10' tall and 8 ft. wide.

The newest selections of Crape Myrtle are the First Editions Series and below are some of your choices for your landscape.

Lagerstroemia 'Coral Magic PPAF' Grows 6 to 10' tall and wide with beautiful Salmon Pink flowers. The foliage begins in early summer with reddish color then this new growth turns dark green in summer.

Lagerstroemia 'Purple Magic PPAF' is the truest purple crape and it grows 6-10 ft. tall and wide.

Lagerstroemia 'Moonlight Magic PPAF' has stunning white flowers and grows 6 ft. tall and wide.

It is time to stop the violence once and for all. In conclusion, select Crape Myrtles for their size based on the available planting area. If you have plenty of space for a 20 ft. tree that is fine, but don't plant a 20 ft.tree in a site where a 10 ft. tree would fit with no maintenance. Remember low maintenance is the key.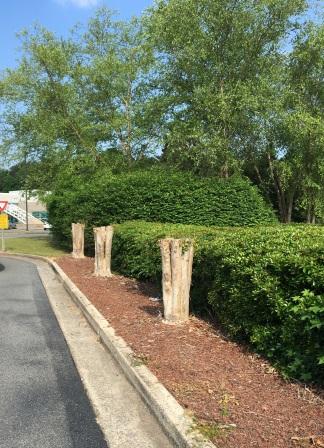 Real Crape Murder

Lawrence L. Hoyle, author, 62 years in the Landscape Profession. Check out his main website at: https://www.web-landscape-design-ideas.com. This website has free Landscape help for Do-It-Yourselves and a online Landscape Design Services for Homeowners, Landscape Contractors and Home Builders. Designs online since 2003 with designs in 40 states. Get your today.!

Article Source: https://EzineArticles.com/?expert=Lawrence__L._Hoyle
Article Source: https://EzineArticles.com/8375835


Have A Great Story About This Topic?
Do you have a great story about this? Share it!
Order Your New Landscape Design Today!
Always Design Before You Plant!


Privacy   Disclaimer   About   Contact   This Site Built:   Solo Build It

Copyright © 2003 - 2023 by Web-Landscape-Design-Ideas.com.
All rights reserved.